Jump to ratings and reviews
Nothing can stop Raine Cooper when she wants something…
Raine finally knows that her gorgeous neighbor, Torin St. James, is a legend straight out of Norse mythology, and that her feelings for him are strong. Torin is crazy about Raine too, breaking the one rule he lives by: Never fall for a mortal. The problem is he no longer remembers her, his memories erased by Norns—Norse destiny deities—to punish her for defying them.

So Raine comes up with a plan...
She will make Torin forget his one rule a second time and fall in love with her all over again.
But she quickly learns that well-laid plans do not work when dealing with deities and supernatural beings. Desperate, Raine makes choices that could not only tear her and Torin further apart, but lead to the destruction of everything and everyone she loves.
342 pages, Paperback
First published August 3, 2013
---
---
About the author
Her award-winning, International Bestselling YA Paranormal Romance—Runes Series—started with Runes and has a total of 6 books to date. The last one, Witches, released in March 2015, was a Readers Choice Awards winner. Her most recent addition is Demons, A Runes Companion Novel (Eirik Book 1). Demons is the story of Raines best friend and former crush Eirik Seville.
Her international bestselling YA Urban Fantasy series, The Guardian Legacy Series, focuses on the Nephilim, children of the fallen angels. The series started with Awakened and has a total of 4 books to date. The latest Forgotten was released in June 2015.
She also writes Contemporary Romance as E.B. Walters-from The Fitzgerald Family series and Infinitus Billionaires series.

Whether she's writing about Valkyries, Norns, and Grimnirs, or Guardians, Demons, and Archangels, love, family, and friendship play crucial roles in all her books.

If you enjoyed reading her books, please consider leaving a review. Reviews can make a difference in the ranking of a book.

To be updated on more Runes exclusives, the next book in Eirik's story, giveaways, teasers, and deleted scenes, join her newsletter.

http://bit.ly/EdnahWNewsletter

For the discussion about the series, join her private page on FB: http://bit.ly/EdnahsEliteValkyries

or Stop by my website for a visit:
http://ednahwalters.com

Or join the discussion about the series:
http://bit.ly/FacebookBookGroups

You can also find her on Tumblr,
Pinterest http://bit.ly/EdnaWPinterest
Instagram http://bit.ly/EdnahW-Instagram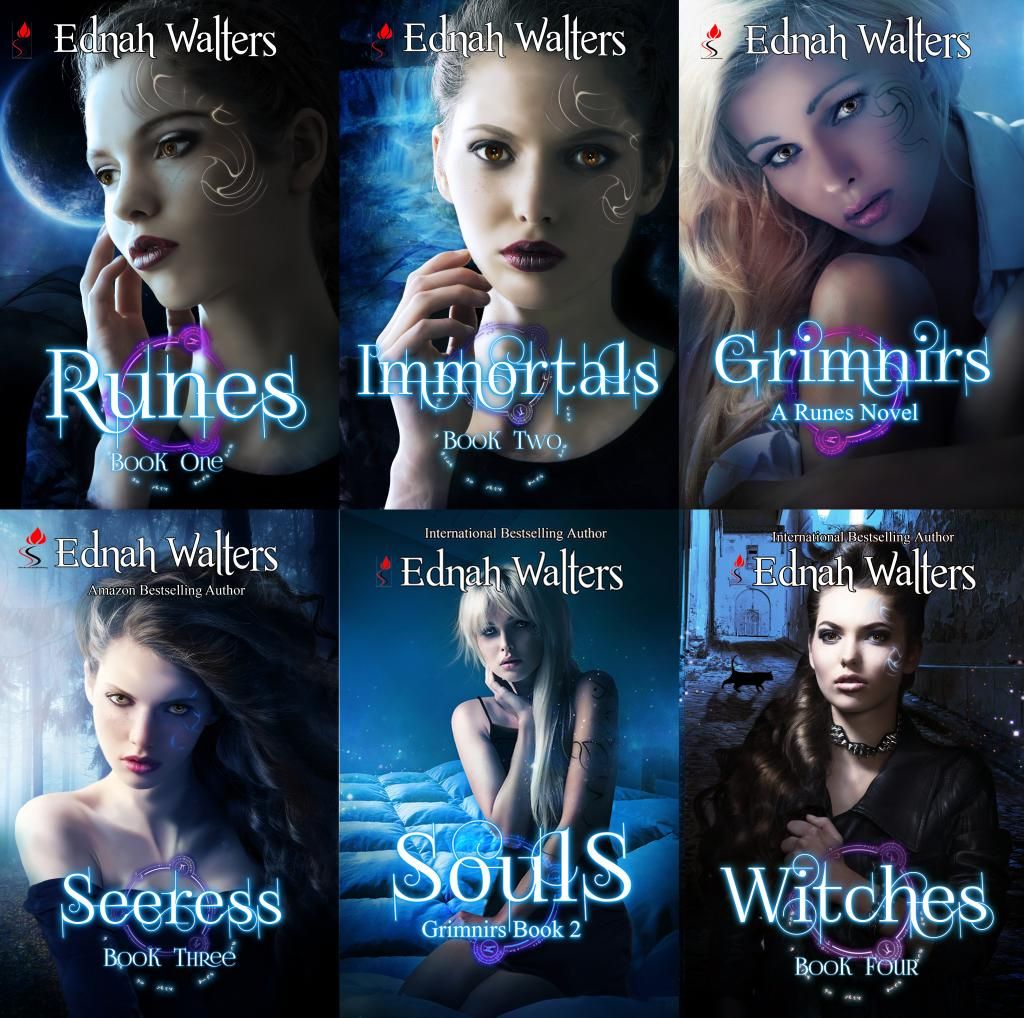 ---
---
Community Reviews
Displaying 1 - 30 of 407 reviews
Displaying 1 - 30 of 407 reviews
Can't find what you're looking for?
Get help and learn more about the design.