"If I could rearrange the world for you, I would," he says. "I'd rearrange everything."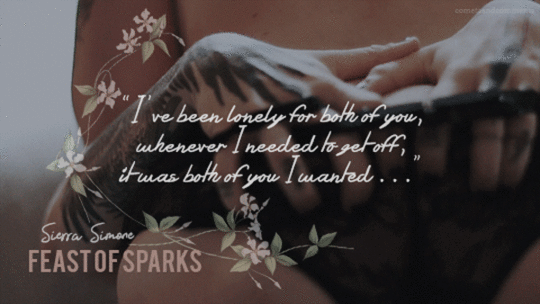 Stepping into Thornchapel is like being blindfolded on a rollercoaster. You never know when your inching up and nearing the edge... and then all of a sudden your stomach drops, your heart is light and you're descending at rapid speed. Then, everything seems fine but you really have no idea what else is in store for you.


_______________

Feast of Sparks
It's hard not to call this series captivating... Akin to its predecessor, FOS completely consumes you from start to finish. It is erotica with grit and edge. A storyline that slowly hypnotizes you and characters that will make your heart swoon. When I started reading the first couple of chapters, I had to physically break myself away from the text and slow down just so I could draw out every page. The sensuality and carnality of the plot is something so unique to this series and I stand by my statement that the storyline is just as worthwhile as the erotica.




FOS begins almost exactly where ALIT ended but now we also get to see the history behind Auden and St. Sebastian's conflict. The change in POV was refreshing and Saint now owns a large section of my heart. Sierra Simone definitely does not disappoint with her kinky, depraved and wickedly delicious scenes between Saint, Auden and Poe but I do have to say the monologue and character development I got to experience with Saint's storyline was breathtaking. In short; the longing in this book will drive you insane.


"We are born to burn."


The Ensemble
I have been chomping at the bit waiting for this release ever since I finished A Lesson in Thorns and while I can happily say that Sierra Simone delivered, there were quite a few problems I faced during the latter end of the novel. BUT before all of that, let me try and sell you on this series.

Firstly, it's not for everyone. In fact, I'd say it's for a very select few that probably enjoy getting absolutely obliterated by a story about a group of six champagne-drinking, ritual-fucking, angst-driven, orgytastic adults. Whilst ALIT followed the groups initial curiosity towards their parents tragic backstories and all the magical / erotic behaviorisms of Thornchapel... FOS shows a significant level of maturity. It was like drinking a much finer wine. We see a distinct change in group dynamic and the characters have now begun to know exactly what they want.


"This is just a bonfire we spent too long making, and this is just a circle of old lanterns that we found in Thornchapel's attic. These are just my friends—my fussy, hilarious, prickly, pretty friends—and I'm just me. I'm not a bride, I'm not a May Queen. I'm just a librarian who likes to be spanked."


Secondly, this book ends in a cliffhanger (I can't make my mind up on what I think about the cliffhanger in this one). The next book is expected to be published in early 2020. However, the plot is such that it follows a continuous timeline and I don't expect the third book will have any time jumps - it will most likely be like this one and start where the previous book left off. It's definitely a commitment but it's one that I have no regrets in following through on.

Sierra Simone (as always) has the musings of a kinky philosopher and it works beautifully with the atmosphere and setting of Thornchapel. The wonderful descriptions and monologues were just as engrossing as the first novel. The tinge of magic in the air and the slight feeling that something paranormal is encircling the events that unfold during the book is still wonderfully written.


"Maybe Thornchapel is a magic place, but it isn't a safe place."


The Story
The start of this book was a solid 5 stars but towards the last quarter it fell to about 3-3.5 stars. This was solely due to the fact that a handful of things were starting to become more apparent to me during the time I was near the end. For the most part, I struggled to ration with Poe's desperation in this book. Understandably, something massive happens in her storyline that affects her throughout FOS, yet I wish we got more of her thoughts and identity like we did the first book.


"I am the girl who kneels at night. I am the bride by thorns."


It was hard not to compare FOS to ALIT, but I feel like a lot of what was happening began to be repetitive. The inner conflict with some of the characters felt a bit drawn out and unrealistic at times with all the grand gestures and statements. Which brings me to the random info-dumps at concentrated parts of the book. I wish the information we got on the rituals and the history of Thornchapel unfurled throughout the book rather than in selectively condensed chapters.

Leaving behind all those little things, I really did enjoy this sequel to a series that I think I will always love. I look forward to the third book and seeing the mysteries of Thornchapel unravel :)


"Keep me any way you want, I want to tell him. Just so long as you keep me close."


1. A Lesson In Thorns: ★★★★★
2. Feast of Sparks: ★★★★
---